Wednesday 6 September  Harvard Center Shanghai, China
The Case Centre visited Harvard Center Shanghai on Wednesday 6 September to present Nancy Hua Dai with the Strategy and General Management trophy.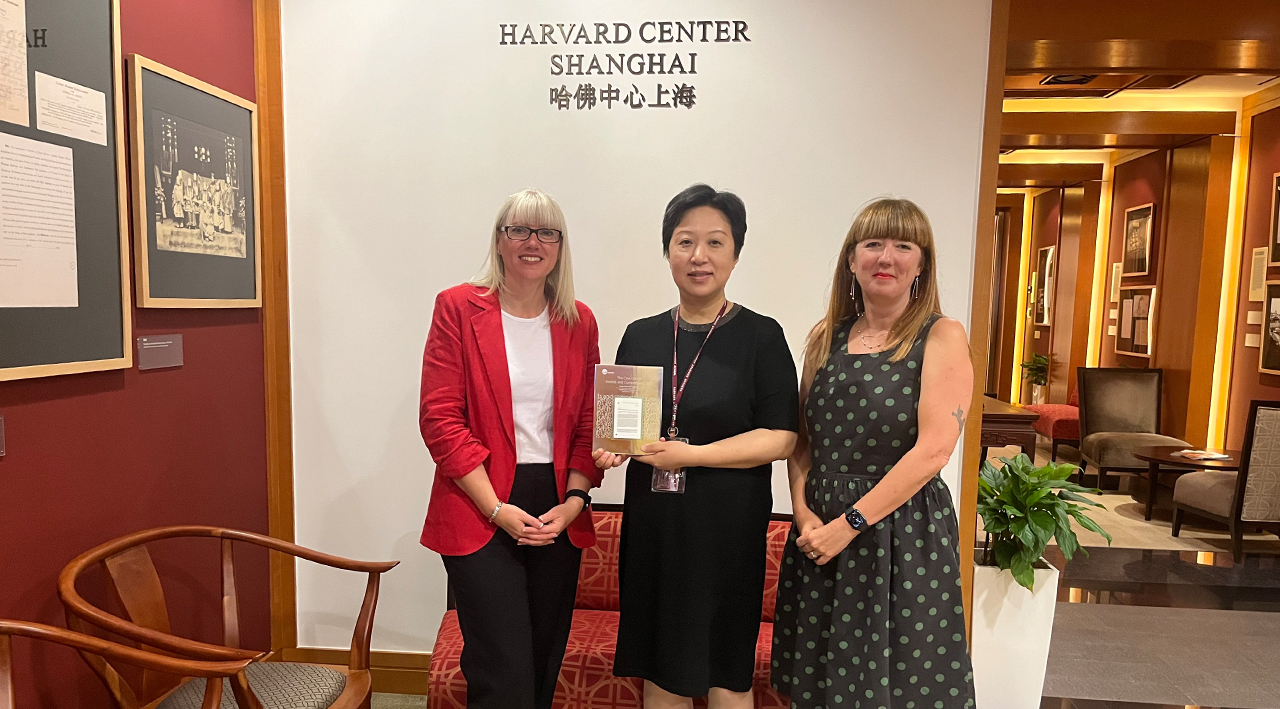 The Case Centre's CEO, Vicky Lester, and Communications and IT Manager, Antoinette Mills met with Nancy in downtown Shanghai at the Center, which was opened in March 2010 as a resource for Harvard faculty, students, and alumni across all of their schools.
Nancy won the award for her case Haier: Incubating Entrepreneurs in a Chinese Giant, which was co-authored by Rosabeth M Kanter, Ernest L Arbuckle Professor of Business Administration at Harvard Business School. The case explores Haier Group's (Haier) transformation from a domestic refrigerator manufacturer in China to an innovative global platform.
Hear from Nancy
What does winning this award mean to you?
"It is a pleasant surprise to hear the good news five years after the case was published, so I am really grateful for having the opportunity to work with Professor Rosabeth Moss Kanter on this case."
Why do you think your winning case is so popular?
"I think the key reason is Professor Rosabeth Moss Kanter chose the focus of the case that reflected the growing importance of managing transformation in an established company to encourage entrepreneurship on a global scale."
What are your top case writing tips?
"From my perspective as a case writer, case writing is managing collaboration, and three elements are important:
"Case selection is the first key step. Questions we need to ask as case writers include: Does this new case lead meet the professor's teaching objectives? Does it reflect an important growing trend? Is the top management of the company, the CEO or Chairman, supportive of doing the case? Are they willing to talk about important dilemmas openly?
"Getting sufficient critical information through the interviews is the second key, just like you need good raw materials to cook a delicious dish. Creating a safe environment at the beginning of the interview sets the stage for a good interview. You can explain the purpose of writing this case, the course or program where the case will be used, the authorisation for using their quotations and the case review and release process, and address an interviewee's concerns before the interview starts.
"Thirdly, know what you are good at and find resources to complement what you are not good at. For example, for this case, I invited Jingsheng Huang, the former Managing Director and Executive Director of Harvard Center Shanghai, to join me in the interviews to leverage his investment and management insights. And after I finished the first draft, I sent it to my colleague Dawn Lau to help review the draft quickly as her English was the best in our team.
"I want to add one point: One unique feature about this case and many other global cases written at HBS is a combination of global perspective and local knowledge. Our Boston-based professors have global perspectives and expertise in their areas, which is very helpful when selecting and writing a case to teach global students or participants. And our researchers based in research centers in different regions under HBS Global Initiative can contribute local knowledge and connections."